Our "40+1" Year Reunion Was Wonderful!
Enjoy Some Photos From The Reunion: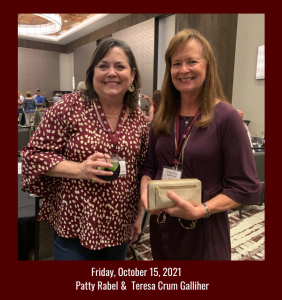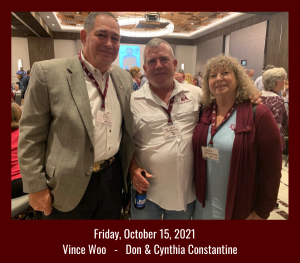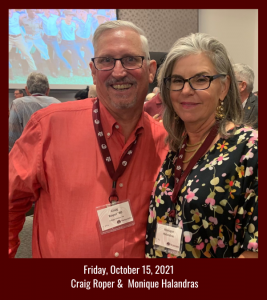 To see more photos, please visit our 2021 Reunion Photo Gallery.
To view photographs shot in 1979-1981 by Greg Gammon when he was a student photographer for The Batt, please visit Gregory Gammon Photography.
If you have a questions about the Reunion or other Class of '80 event, please Contact any Class Agent.
Class of 1980 E. King Gill Selfless Service Award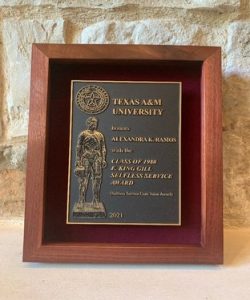 Thanks to you, each year a Texas A&M University graduating senior is chosen to receive this award which consists of a $5,000 check (outside of their financial aid package) and a plaque.
We are proud to introduce the second recipient of the Class of 1980 E. King Gill Selfless Service Award, Alex Ramos '21.
The entire Class of '80 should be proud of the quality students receiving this award. Alex wanted to share her thanks and a little bit of her story with the entire Class (below). She is entering the EnMed program at Methodist Hospital Houston in partnership with Texas A&M University College of Medicine.
Howdy!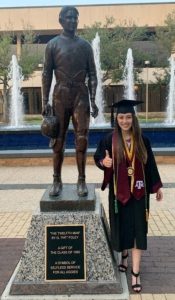 This is Alex Ramos, Class of 2021, and the recipient of the Class of '80 E. King Gill Selfless Service Award. I know the circumstances of this year surrounding my graduation and this award have made it to where I will be unlikely to meet you in person to thank you properly, but in true pandemic-style, I would at least like to send my thanks via email.
Part of being an Aggie is doing the right thing without expecting any kind of reward or recognition to follow. I certainly never expected to receive this caliber of award, but I am so thankful and humbled to have been selected, regardless. You heard a little bit about what I've been dedicating time to for the last four years, and I'd like to share a little more.
I'm a second-generation Aggie, with my father (Class of '85) being the reason I got to attend Aggie football games and tailgates well before I was ever a student at this great university. Texas A&M has provided me with so many opportunities to embody Selfless Service, from the greenhouse project to my study abroad in Rwanda. I've been lucky enough to see a lot of the impact my service has had in the moment, and I'm proud to say that many of those service projects will continue long after I graduate.

Having an award dedicated to Selfless Service would really only happen at a university like A&M, where service is an integral part of our culture. As I move forward, after graduation, I plan on using this award to help me through medical school. In case you haven't heard yet of the EnMed program, this is the program I have committed to and will participate in for the next four years. In the program, I will earn an MD and Masters in biomedical engineering, with the goal of continuing my commitment to Selfless Service in the field of medicine.
Being selected for this award was an amazing combination of feelings ranging from shock to gratitude. I cannot express how appreciative I am of your consideration for this award, and I hope that I continue to embody the Selfless Service recognized by the Class of '80 E. King Gill Selfless Service Award.
Thank you so much,
Alex Ramos '21

Biomedical Engineering | Texas A&M University
University Honors | Aggie Network Student Ambassador | TAMU Urban Farms United
Read more about Alex and her accomplishments while at Texas A&M.
Read about Lauren Breazeale '20, the first Class of 1980 E. King Gill Selfless Service Award Recipient.
Thanks again to each of you in the Class of '80 that helped establish the first core value award at Texas A&M University. The Class of '80 can truly be proud of giving back to Texas A&M to memorialize the core value of selfless service for generations of future students!
If you have any questions or input, please contact any of us below by clicking on our names.
Thank you and gig 'em!
Bill Hyatt
Ken Jones
Co-Chairs – Class of 1980 E. King Gill Selfless Service Award
Sara Beaves
Bill Jentsch
Jim Pratt
Mark Rhea
Kari Moore Roush
Co-Class Agents
Help Us Find Current Email Addresses for Our Classmates
Because our class year is on the "electronic only" side of the Association's digital divide, 25% of our Classmates with unknown email addresses are not receiving the Class of '80 newsletters or any of the general communications from the Association. Please help us connect with these folks by reviewing the list of names to see if someone you know is on it. You can reach out to them directly to have them update their email address on their profile with the Association or send it to one of the Class Agents and we'll take care of getting it to the Association. The list is sorted alphabetically by last name, then first name and includes the city/state for their preferred mailing address. Please review the List of Un-Emailable Classmates.
Save
Save
Save
Save
Save
Save
Save
Save
Save
Save
Save
Save
Save
Save
Save
Save