Since 1968, the merit-based President's Endowed Scholarship (PES) program has been inspiring high-achieving high school seniors to make Texas A&M University their school of choice.   A PES can be established by an individual or group with a one-time gift of $100,000 or with a series of installments over a period of up to five years. The endowment established by the gift funds a stipend for one student for four years, plus a bonus for a study abroad experience. The endowment is managed by the Texas A&M Foundation and pays for the current student scholarship while simultaneously providing for the long-term growth of the principal, thereby supporting students in perpetuity.
President's Endowed Scholarships are awarded by Texas A&M University's Academic Scholarship Selection Committee in March to outstanding high school seniors.  Review the scholarship application requirements from Texas A&M Scholarships and Financial Aid.  Learn more about the President's Endowed Scholarship from the Texas A&M Foundation.
Our 2022-26 PES Recipient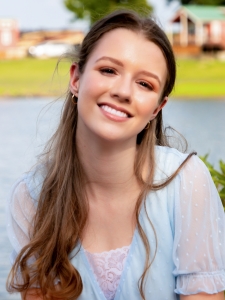 Kara Ann Bell '26 is our current PES recipient.  Read a note to the Class of '80 from Kara:
Howdy! My name is Kara Bell and I am so grateful to be a member of the Aggie Class of 2026! I am majoring in Biomedical Sciences and aspire to earn my DVM, concentrating in small animal medicine and research. Animals have always been a priority in my life, and I value the opportunity to work with and care for these vulnerable creatures.
I will be joining the Texas A&M Concert Band program, playing oboe and piano and hope to continue musical activities in this community. In my free time, I love to read classic novels, cook with my family and friends, perform Chopin and Rachmaninoff on piano, and play with my three amazing dogs. I am so excited to join the Texas A&M family and become an Aggie!
Our Adopted PES Recipients
Erin Batta '24
Luke Bedrosian '24
Isaac Beltran '26
Aaron Chong '23
Addison Duerksen '23
Colby Jacquin '23
Colette Jones '23
Spencer Kalafut '23
Jack Moran '25
Maya Shah '25
Emma Trueba '24
Anna Wooldrik '24
Our Past PES Recipients
Katherine Dahlander '15
Shanna L. Schrock '11
Tracie L. Book '06
Jason D. Schall '02
Heather A. Graham '01
Shelley A. Claridge '97
Peggy A. Sequeira '94