The Class of '80 Memorial Endowed Opportunity Award
The Class of '80 Memorial Endowed Opportunity Award is a scholarship set up to honor fellow classmates that have fallen while in active service.
Eligible recipients are;
First – Descendants of fallen classmates that have fallen while in active service
Second – Descendants of Class of '80 classmates
Third – Any student
The three known members of the Class of '80 that died in the service of their country are Bruce Netardus, Ken McGuire and Ken McCullough. Though none spent an hour in combat, their sacrifices are reminders of the hazards that those who preserve our freedoms face even  in the absence of hostilities.
MAJ Bruce A. Netardus "Phoid"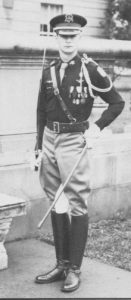 Bruce Netardus, from El Campo, Texas, was a flight leader with the 57th Fighter Wing at Nellis Air Force Base, Nevada.  He was killed when the F-15E Strike Eagle he was piloting crashed on August 10, 1992, on a training mission about 80 miles northeast of Las Vegas, Nevada.  Netardus was an instructor at the Air Force's Fighter Weapons School.  He was on a simulated combat exercise when his airplane went into a flat spin. Netardus worked to recover but was unable to save the airplane or eject in time. It was later found that the relatively new E version of the F-15 was unstable in certain regimes of flight, and the accident led to updates in the aircraft.  He was survived by his wife, Susan, and a son and a daughter.
While stationed at Eglin Air Force Base in Florida, Netardus helped his wing win an unprecedented second consecutive title as best air-to-air combat team in the Air Force's William Tell '86 competition.
At Texas A&M, Netardus was commander of Squadron 10 and a Ross Volunteer.
LCDR Kenneth F. McGuire "Mangler"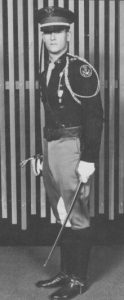 Kenneth McGuire, from Houston, Texas, was a pilot with VFA-22 out of NAS Lemoore, California, when his F/A-18 Hornet crashed in a canyon while on a training mission.  McGuire was acting as a low-level adversary for a group of airplanes from his squadron when his airplane struck the ground.  He was a Top Gun graduate with more than  2,000 hours in the F/A-18, had served as an instructor for the aircraft, and had deployed aboard the USS Abraham Lincoln.   He left a wife, Colleen, and three children.
While at Texas A&M, McGuire was selected as the Corps operations officer for the fall semester and served as the First Regiment commander for the spring semester.  He was a Ross Volunteer and was the "Squat" Platoon commander.
Kenneth G. McCullough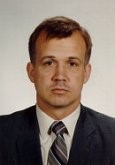 Ken McCullough graduated with a Bachelor of Arts in History. As a cadet, McCullough was a member of Rudder's Rangers, Wings & Sabers, the Ross Volunteers, and was a Distinguished Military Graduate.
Upon graduation, he received a regular Army commission as a Second Lieutenant, artillery, and served in South Korea, and various posts stateside from 1980 through 1987. He honorably discharged as a Captain.
McCullough earned a master's degree in Public Administration from Webster University, Webster Groves, Missouri, in 1986, and began his civilian government service with the Defense Investigative Service in St. Louis, Missouri, in November 1987.
In 1990, McCullough joined the Drug Enforcement Administration, and after completing basic agent training, was assigned as a special agent to the Dallas Division's Oklahoma City Resident Office. He was serving in that role when his office was attacked in the truck bombing explosion outside the Alfred P. Murrah Federal Building on April 19th, 1995, becoming one of eight federal law enforcement officers killed in the deadliest domestic terror attack in United States history.
Click Here to read about our current and past Memorial Endowed Opportunity Award Recipients.