Silver Taps for our Classmates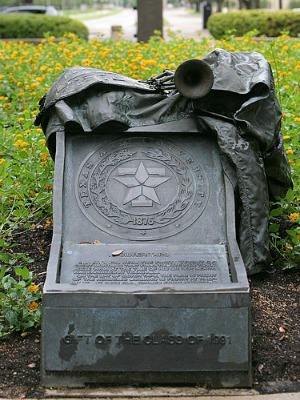 View a complete list of Silver Taps for the Class of '80 from The Association of Former Students.
View information about current Silver Taps at A&M from The Division of Student Affairs.
Gordon W. Lawson '80
Birth:  Jan. 14, 1959, Venezuela, Death:  Dec. 23, 2012, Kenedy, Karnes County, Texas, USA
Gordon W. Lawson, age 53, of Hobson, Texas passed away Dec. 23, 2012 in Kenedy, Texas. He was born Jan. 14, 1959 in Caripito, Venezuala to Gordon Wallace Lawson and Blanche Hickok Lawson. Gordon graduated from Texas A&M University in 1980 and earned his MBA in 1981. At Texas A&M, he was a member of the Corp of Cadets and later served his country in the Army as a 2nd Lt., stationed in Hawaii. Gordon lived most of his life in Houston, Texas where he worked as a Computer Systems Manager. He was a member of the American Legion; and the San Antonio Model Railroad Association. He is survived by his sister Judy Lawson of Austin, Texas; nephews Devon Etheredge, and Jasen Lawson; cousins Mary Julia Hickok, Matt Gotthardt, Margaret Gotthardt, Melanie Johnson, Mark Gotthardt, Susan Swan Vorpahl, Gordon Swan, and Tom Swan. He is preceded in death by his parents. A funeral service will be held at 10 AM, Thursday, Dec. 27, 2012 at The First Baptist Church of Karnes City. Pastor Kevin Cornelius will officiate. Serving as pallbearers will be Pat Dziuk, Charles Davis, Matt Gotthardt, Arman Syed, LeRoy Weigang, David Kunshik, Bill Pyle, and Devon Etheredge. In lieu of flowers memorials may be made to the First Baptist Church Building Fund. Funeral services are entrusted to Rhodes Funeral Home, Inc. of Karnes City, Texas. Published by Rhodes Funeral Home December 24, 2012.
Save
Save