Class OF '80 E. King Gill Selfless Service Award
The Class of 1980 E. King Gill Selfless Service Award was officially created this fall. This award will be the only university-wide student award to focus specifically on the Texas A&M core value of selfless service. As you may recall, our first Class gift was the E. King Gill Statue, which now officially represents "Selfless Service for ALL Aggies" and is located on the west side of the Rudder Fountain in Rudder Plaza.
We, the Class of '80, are in a unique position to lead former students in funding the first award in recognition of the six Texas A&M Core Values. Establishing this award shines a bright light on some of the amazing work being done by students at Texas A&M and further highlights what it means to be a Fighting Texas Aggie.
Whether it is service that changes the life of an individual or service that launches/funds an entire volunteer program, the selfless service of Aggies is impactful, and we are proud that the Class of '80 will be recognizing the graduating senior who best embodies this core value each year.
The Class has committed to raising $105,000 to provide an annual award of $4,000. What we need now is your help to fund this award by making a donation and/or pledge to the Class of '80 Gift Fund. Your gift is important no matter the size. See the instructions below for making your gift or creating a pledge online. It's quick and easy. If you'd prefer to mail a check instead of giving online, that works, too—just let one of us know and we can provide you with the info you need.
If you have questions concerning the award, please contact a Class Agent. We can tell you more about the award selection process, the award criteria, and why we are so excited about the award and funding it before our 40 Year Class Reunion in 2020!
We'd also love to have you join the fun as a committee member!!
The current committee members are George Black, Red Brown, Don Constantine, Jim Edge, Paul Gulig, Lu Harris, Brooks Herring, David Hruzek, Scott Hutchins, Bill Hyatt, Ken Jones (Chair), Ron Kapavik, Dan Layton, Jeff Mason, Kathy McCoy, Patty Rabel, Kyle Sears, David Spencer, Scott Terry, Paul Tortorici, and Deborah Wright.
Thanks for your support in making this Class of '80 gift a reality!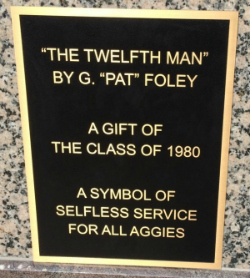 Please Contribute!
Read the
Instructions for Online Giving to the Class of '80 Gift Fund
for the Class of '80 E. King Gill Selfless Service Award or Click the box below to begin the process:

E. King Gill Statue Prototype
Have you seen this man? This is a photo of one of the Prototype Statue that were available in 1980 when our Class of '80 Gift was being created. We are trying to locate them. Do you have one or do you know who does? If so, please contact any of your
Class Agents
.

.
Campaign Kickoff Event
The Class of '80 E. King Gill Selfless Service Scholarship Campaign Kickoff Event was held May 7, 2017 and was a huge success. Read more about the Kickoff Event and see photos
Here
.
E. King Gill Selfless Service Award
At our 35th Reunion, our class voted to fund one Selfless Service Scholarship and that initiative has blossomed into funding four scholarships consecutively.
If you would like to serve on the Selfless Service Scholarship Committee or if you have suggestions to pass on, please contact any Class Agent.
As part of the committee, Paul Gulig has issued a challenge to all Classmates.
Read Paul's Challenge Letter for more information.
Please Contribute!
If you would like to contribute to the Selfless Service Scholarship, please make a gift to our Class of '80 Gift Fund online below:

Save