We are proud to introduce the third recipient of the Class of 1980 E. King Gill Selfless Service Award, Christopher J. Thompson '22.
The entire Class of '80 should be proud of the quality students receiving this award. Chris wanted to share his thanks to the entire Class (below).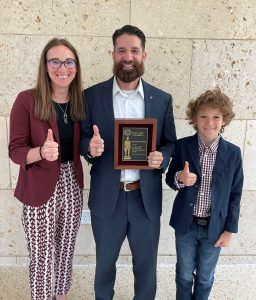 Dear Class of '80,
Thank you all once again for selecting me as the 2022 recipient of the Class of 1980 E. King Gill Selfless Service Award. It is an incredible honor and it's not something that me or my family take lightly. I know there had to be some amazing candidates and, at times, I'm still surprised I was chosen.
My whole life I have been very fortunate to be surrounded by amazing people who have helped shaped me to the person I am. I owe them a lot of credit for anything positive that I have done or become. One of those people, who is most important to me, is my wife Becca. She continues to encourage me, believes in me when I question my own self, and has a great servant heart herself. I wouldn't be half the man I am without her. In my eyes, I share this award with her. She is a wonderful woman and I'm blessed to have her in my life.
Something I learned years ago, when I was on a Special Forces team, is that I had to earn my Green Beret every day. Even though I had completed years of training, selection and assessment which authorized me to wear the beret and Special Forces tab with my uniform. My teammates didn't really care about what I had done in the past. What my teammates cared about is what I was doing today and what I was bringing to the table today. With the Class of 1980 E. King Gill Selfless Service Award, I will carry the same. I will strive to re-earn this each day and continue to look for ways to serve and have a positive impact on others beyond the day I was recognized.
Thank y'all once again, and please let me know if there's anything I can every help with.
Gig 'em!
CT
Chris Thompson
Read more about Chris and his accomplishments while at Texas A&M.