Antonio Rojas '15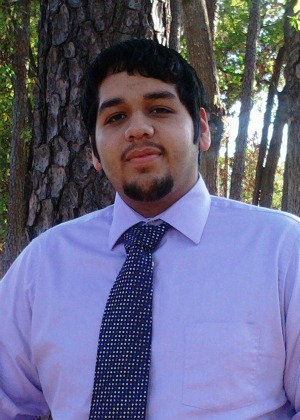 My name is Antonio Rojas, I'm a Chemistry major from Houston, Texas, but most importantly, I am the loudest and proudest member of the fightin' Texas Aggie class of 2015!!! AAAAAAAAAAAAA!!! I attended high school at Eisenhower Senior High where I received my diploma on the Distinguished plan, finished 12th out of 658 in my graduating class, and was part of the International Baccalaureate Program.
As far as extra-curricular activities go, I was a member of the Technology Student Association, International Culture Club at Eisenhower, National History Day competitor, and a mentor to several of the underclassmen in the "Pre-IB Years Program". I was elected to the National Honor Society, Science National Honor Society, and UIL Academic Team. I also held office in numerous clubs and activities, which included being a Senior Representative of the Principal's Student Advisory Committee, a Captain, and Section Leader, of the Varsity Band, President of the Treasure Forest Outreach Program, Team Captain on my Junior Varsity Football team, and head of my section in the Students Improving Math Skills Tutoring Project. Most importantly, though, I was a student in the International Baccalaureate Program, which is one of the most rigorous college preparatory programs offered at the High School level internationally.
These efforts did not go unnoticed and I received plenty of recognition through two regional and one state finish in History Fair, two 2nd place finishes in the Science division at Academic UIL, my election into the National Honor Society, several Honor Roll and Merit Roll recognitions, and a Superior rating at Marching Band UIL.
My hobbies include recreational sports, musical composition and performance, and video web-mastering and production. I also like long walks on the beach, piña colada, and getting caught in the rain. (Just kidding) I love to help people, and make anyone I can smile. My career aspirations have always been tied up in a three-way race to become a physician, psychologist, or sports journalist. Fortunately, I do not have to make that decision for a few more years.
The biggest thing people do not know about me, because of my competitive nature, is that I am not afraid of failure. I learned early on in my life that if you go into everything expecting the best, you will often be disappointed. All you can ever do is bring a great attitude and mindset, and strive to give any, and every, task 100% of your efforts. Another thing often unknown about me is that I am not only the first person in my family to attend college, but I am also the first person in my family to even graduate high school. It seemed as though all my life I had the odds stacked against me. However, the tables have begun to swing in my favor thanks to the opportunity college, and all my supporters, has given me. With a higher education under my belt, I know I will be prepared for whatever the world has to throw at me.
I do not use my setbacks as excuses, I do not quit because things are difficult, and I definitely do not complain about getting the short end of the stick. In fact, I embrace the challenge, and if there's one thing I love, it's being able to prove to everyone, time and time again, that I am destined for success."
–Antonio Rojas